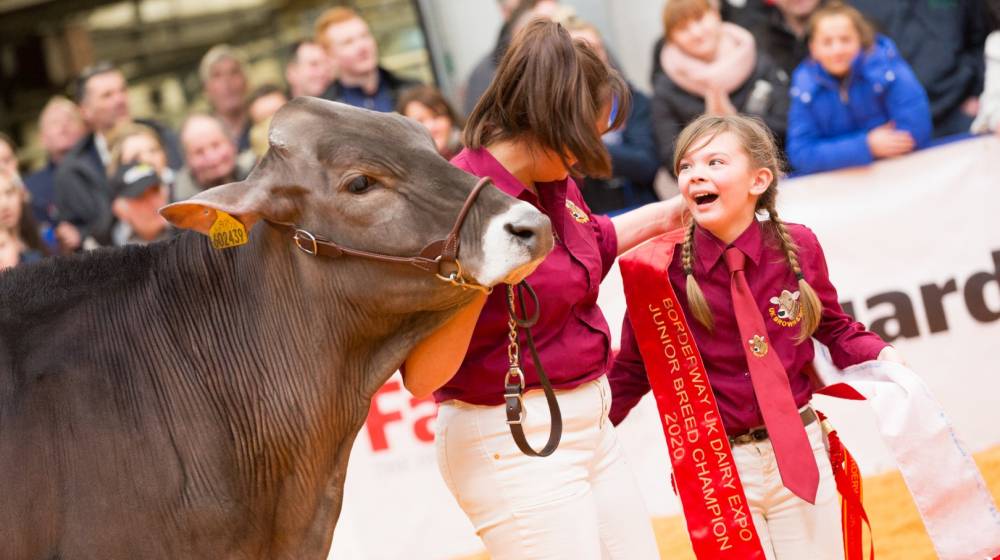 Borderway UK Dairy Expo 2022 is a Milestone Event
In commemorating its 10th Dairy Showcase, Harrison & Hetherington (H&H) announce that the UK Dairy Industry is well-represented in its outstanding show of dairy cattle.
With an all-female line up of judges, Borderway UK Dairy Expo 2022 returns for the tenth year to Borderway Exhibition Centre, Carlisle, Cumbria on Friday 11th & Saturday 12th March. As one of the UK's leading dairy industry events, Borderway UK Dairy Expo brings together the very best that the British dairy industry has to offer, including recognising commitment and, new for this year, a series of industry seminars.
With exhibitors spanning the entire UK, over 350 livestock entries of some of the finest livestock genetics the industry has have been received, and it will act as a shop window for breeders and producers alike.
Organised by Harrison & Hetherington (H&H) Borderway UK Dairy Expo embraces the latest genetics, science, research, and technology within the dairy business, and attracts in the region of 7,000 farmers, traders, and industry experts. A major platform for networking, it offers a dynamic hub for advice, information, and knowledge exchange, which is echoed by the number of trade stand attendees.
Judging this year is a highly respected all-female panel travelling from America, Canada and across the UK. Molly Sloan from Lake Mills, Wisconsin, will judge the Holstein and Brown Swiss shows; Terri Packard from Maryland will judge the Jersey and Red & White classes; Jane Arrell from Shropshire is the judge for the National British Friesian and Dairy Shorthorn classes; Katie Davidson from Dumfriesshire Scotland is judging the Ayrshire show; and Marie Eve Veronneau from Quebec the International Showmanship Show.
Commenting ahead of this annual event Harrison & Hetherington's Senior Pedigree Dairy Auctioneer, Glyn Lucas, said: "We are delighted to be able to return this year for our tenth ever. In the years since we launched this event, it has grown in size, scale and reputation, and is now renowned internationally for the high calibre of stock it attracts.
"Judging this level of stock is not a task for the faint hearted and our all-female line-up of judges this year are extremely well qualified for the job. It is testament to the stature of the event that we can attract leading lights of the international dairy industry to judge.  All our judges are experts in their own special fields and their eye for detail is second to none."
A new addition to this year's programme is a series of thought-provoking seminars organised by H&H Land & Estates, entitled 'Improving Productivity and the Challenge of Achieving Net-Zero'. These will see keynote industry figures discussing and debating a range of current topics and issues that face the dairy industry, with experts on hand to give insight and an opportunity for audience participation at the end of each talk.
H&H are aware of the importance of encouraging and supporting the next generation and, have specifically tailored classes where young people can participate. For many, competing and showing cattle in world class dairy events starts early and it takes a huge amount of time and dedication. The aim of the Showmanship Championship is to inspire the next generation to get involved and offer the opportunity to be guided by some of the best in the business.
As well as supporting the next generation, acknowledging the individuals that are key to the continuing success of the dairy industry is imperative. The John Dennison Lifetime Achievement Award will once again be presented by the family of the late John Dennison of Cumbria, to recognise a dairy cattle breeder or exhibitor judged to be a high achiever and excellent role model within the industry.
In addition, this year H&H have introduced two new awards that recognise those who are often working behind the scenes. The Tidy Lines Award, sponsored by A W Jenkins Forest Products will be presented to the best kept livestock exhibition stand. This will be demonstrated by how the stalls are prepared and maintained to ensure the stock are kept in the best possible conditions during the show. 
The second new award is the UK Dairy Expo Rising Star Award, sponsored by MilktechNZ Ltd, which will be presented to an exceptional young person working behind the scenes during the event.  They will be looking for a good all-rounder, knowledgeable and with a great skill set working with animals. Both awards will be judged anonymously on site in the run up to and during the Borderway UK Dairy Expo, with the winners announced and presentations made at the end of the day.
Success is also demonstrated through the continued support received from mainline sponsors: Holstein UK, CIS, HSBC, Farmers Guardian and Carrs Billington.
Glyn concluded: "Borderway UK Dairy Expo would not be what it is today without the backing of our fantastic sponsors, and I'd like to take this opportunity to extend a huge thank you to all who support us.
"We look forward to opening the doors on UK Dairy Expo once again and providing an environment where people can come together and drive the dairy industry forward."
Borderway UK Dairy Expo 2022 is a free event for spectators and takes place at Borderway Exhibition Centre, Carlisle, on Saturday 12th March. Free parking is also available. Pre-registration is required and can be done quickly and easily on our dedicated website.
Posted: Monday 28 Feb 2022
Back To Event News