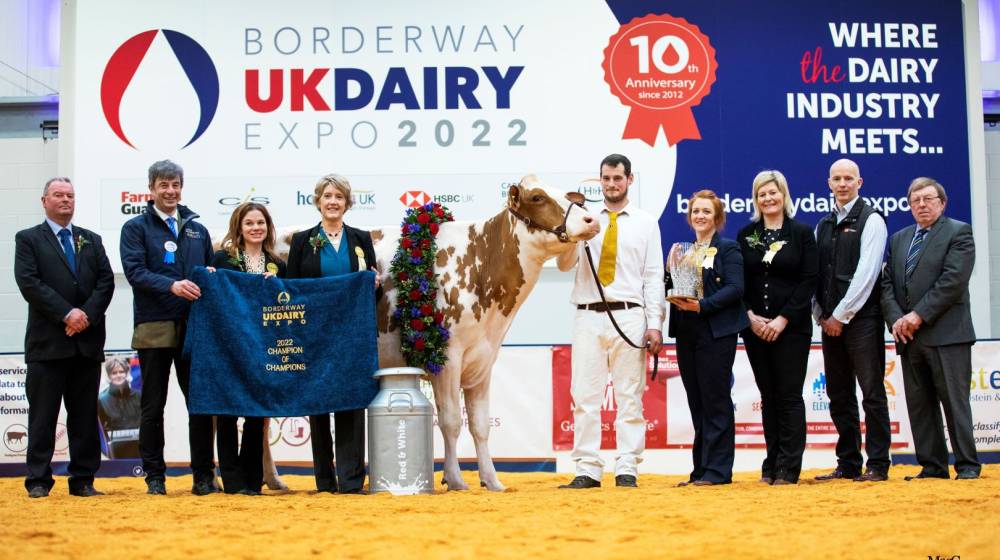 Leading UK Dairy Event Spring 2023 Date Released
Harrison & Hetherington has today released the date for the 2023 Dairy Showcase which takes place annually at Borderway Mart, Carlisle.
Harrison & Hetherington, the UK's leading auctioneers, has today announced that its annual dairy showcase, Borderway UK Dairy Expo will return next spring. The event, which is now a key industry event for dairy farmers across the globe, will take place on Friday 10th and Saturday 11th March 2023 and is expected to attract in the region of 7,000 visitors.
UK Dairy Expo acts as a shop window for breeders and producers and brings together some of the UK's finest dairy stock. Alongside this, it is also a trade event where businesses within the industry can showcase the latest research, developments, and innovative technology that farmers can utilise to improve efficiency and productivity as we navigate the uncertain times ahead.
The return of the event last year following the pandemic highlighted the outstanding reputation the event has earned since it inaugurated in 2012. In addition to those attending in person, viewers tuned in from as far as the USA, Australia, and New Zealand to watch the first ever livestreaming of the event.
Commenting on the announcement of the return of Borderway UK Dairy Expo, Harrison & Hetherington Dairy Sales Manager, Auctioneer, and event organiser, Glyn Lucas, said: "We were absolutely blown away by the support of last year's Dairy Expo and are incredibly excited to see it return in 2023. The event has gone from strength to strength and this is testament to all the hard work and commitment from everyone involved. I think it's fair to say that Borderway UK Dairy Expo has become one of the principal dairy shows in not only the UK, but across the globe."
In addition to the livestock classes, the UK Dairy Expo programme will also include breed society shows and demonstrations, young handler classes, a trade exhibition and informative seminar series, although details of these will be finalised closer to the event.
Scott Donaldson adds: "With an ever-changing industry it's so important to provide a platform for farmers to embrace and explore new and up-to-date trends and developments that might help them secure the future of their own enterprises."
For more information on Borderway UK Dairy Expo, please visit: www.borderwayukdairyexpo.uk.  
Posted: Tuesday 15 Nov 2022
Back To Event News