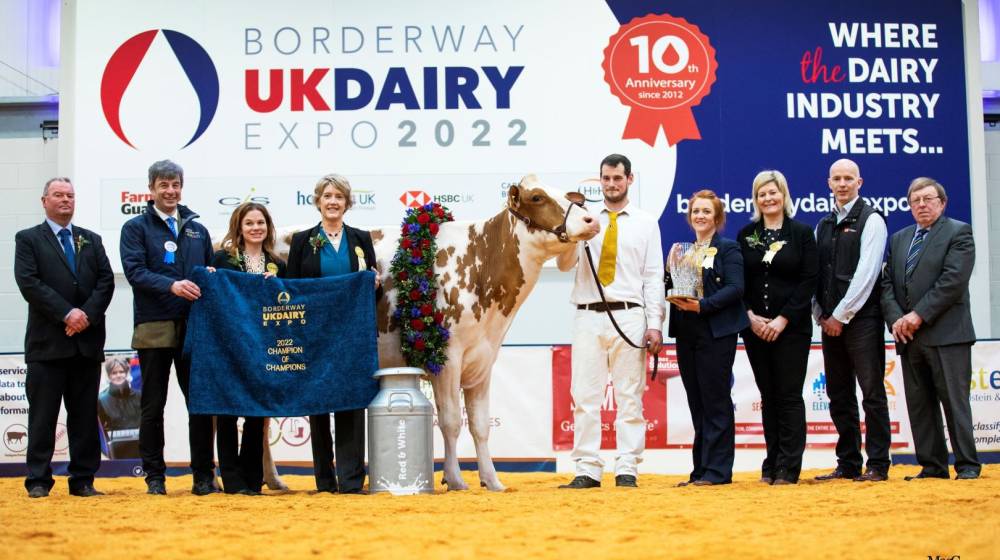 Riverdane Run the Show
Riverdane Holsteins bag Supreme Champion and Reserve at Borderway UK Dairy Expo's 10th anniversary event.
It was the day of dreams for Riverdane Holsteins at Borderway UK Dairy Expo, held on Friday 11th and Saturday 12th March at Borderway Mart, Carlisle. Watched by a global audience Riverdane Miss Awesome Strawberry Red took Supreme Champion, with Riverdane Doorman Elke following in reserve.
Mark and Sue Nutsford, and daughter, Jodie from Cheshire are previous winners of Borderway Agri Expo, however this is the first time the family have taken the inter-breed title with the Red and Whites. Home-bred this Miss Awesome Strawberry Red is sired by Luck-E Absolute Awesome Red, and out of Riverdane Colt Strawberry, which was first in the production class.
Hosted by Harrison & Hetherington, and with a brand-new look, this year marked the tenth anniversary of the event and organisers certainly succeeded in putting Borderway UK Dairy Expo on the map to an international audience. Since its inception back in 2012, the event has built itself an outstanding reputation and is highly regarded as the showcase of dairy genetics and industry technology, innovation, and research. 
In the region of 7000 visitors attended and 350 head of cattle were presented to an all-female line-up of judges and showring stewards.  A first for Borderway UK Dairy Expo, this was in a bid to highlight the strength and success of women within the industry, as well as highlight the opportunities available to the next generation. This was backed up by all female ring stewards which was a subtle yet effective nod to champion the important role women play in dairying.
On selecting the Supreme Champion and speaking on behalf of the Judges, Terri Packard, from Maryland USA, said: "For us, the Red & White cow had an advantage in dairy character overall. She is more level from hooks to pin and we feel she has a more correct set to her rear leg. We also prefer her strength of pastern and the angularity and openness to her rib structure, especially in the rear rib and flank area. She's an excellent example of the breed and a very worthy champion today where the standard in all breed classes has been phenomenal."
Making further comment, Terri who was the Jersey and Red & White Judge, said: "I have really enjoyed the show today. The team have done a wonderful job for their viewership around the world and it's fantastic they can show the international audience the quality of cow that they have here at UK Dairy Expo."
New for this year was the live online streaming of the whole event. Viewers from around the world were able to tune in for the very first time to see live action from the showring. This has opened Borderway UK Dairy Expo up to a world-wide audience and really put the event on the map, with over 4000 viewers following from as far as the USA, Australia, and New Zealand to name a few. Due to its incredible success, this very welcome addition will now be a permanent feature for future events.
Speaking after the event, organiser Glyn Lucas said: "Today has been incredible, from the quality of all breeds to the crowd of people attending. This milestone show has truly placed the UK on a pedestal, and it is fantastic to welcome so many visitors from overseas. The comments on our inaugural livestreaming have been really encouraging. It has been a learning curve, but to see so many people tune in to follow the event online is unbelievable.
"Having an all-female panel of judges has also been fantastic. I feel it is such a male dominated industry and so many young women would love to be involved. This has really set an example that women can take leadership roles and will hopefully encourage more women into the industry by showcasing the opportunities available to them."
For the second year running, the public were invited to vote for their favourite heifer to take home the Genus Supreme Heifer Championship. Over 3000 votes were received through traditional voting and via the event website. It was Holstein heifer, Absolute Doorman She's A Belter from Absolute Genetics, Lancashire, that pipped the other six to the top spot.
The commitment and passion from the next generation throughout the International Youth Showmanship Championship on Friday was inspiring. Winning the overall championship was 11-year-old, Harriet Hassall whose show was described by judge, Marie-Eve Veronneau as "just perfect."
"It was only afterwards I realised that despite being only 11 years old, Harriet had been showing in junior classes for many years. However, she was so humble and genuinely had no idea how good her performance was. It was flawless. She is an extremely talented young lady," said Marie-Eve.
Sticking with the next generation, the brand-new Rising Star Award, sponsored by MilkTech, was launched to recognise the knowledge, work ethic and sportsmanship of a young person in dairy farming. This year it was presented to 24-year-old James Wright who is dairyman at Guillyhill Farm in Dumfries.
James is from a non-farming background and his flair for farming was sparked when he studied Rural Studies at high school. He went on to achieve his HNC and then HND qualifications in Agriculture at Barony College and his love and enthusiasm to work with top cows is clear for all to see. James won a scholarship to attend the German Masters where he learned and honed his clipping skills, and his passion for the animals under his care is described as second to none.
Another important element of the show is the John Dennison Lifetime Achievement Award, which is presented in memory of the highly regarded breeder of Denmire Holsteins. This year it was awarded to Harry Hogson of the Wormanby herd, and the award was presented by last year's winner, David Yates.
On receiving his award, Harry said: " This is the biggest surprise of my life, and this award is not just for me it is for the entire family. John Dennison was a great friend and someone I admired hugely. He has been and still is missed by all within the dairy farming community "
The inaugural series of seminars hosted by H&H Land & Estates added a different dimension to the day, and saw keynote industry figures discuss and debate two prevalent topics. The first of the day was 'The Challenge of Increasing Productivity & Achieving Net Zero'. Chaired by H&H Group Non-Executive Director, Toby Mounsey-Heysham, this seminar saw speakers Ryan Park, Director of Go Low Carbon, and third generation dairy farmer, Tom Neill, discuss the difference between carbon neutral and net zero as well as ways in which farmers can being by making small changes which accumulate to have a big impact. Tom gave details on how he and his family have improved productivity in a bid to future proof their enterprise, and emphasised that the lower your carbon footprint is on farm, the higher your profit will be.
The second seminar of the day was chaired by H&H Land & Estates Director, Tim Sedgewick, and discussed rural grants and schemes available to farmers. This included a whistle-stop tour of the grants and schemes currently available, by DEFRA's Head of Agriculture Sectors Team, John Powell, including the new ELM schemes, Countryside Stewardship Schemes and the Farming Investment Fund. H&H Land & Estates Chartered Surveyor, Nick Mullins, then gave insight from the farmer's viewpoint and discussed the disconnect between the Government schemes and those at the coal face of the industry and the problems farmers face as a result of this. Both seminars culminated in an interactive Q&A session where the audience were given the opportunity to have their say.
Following the unfortunate cancellation of the event in 2021, and reduced numbers in 2020 due to Covid-19, it was a very welcome sight to see so many exhibitors and visitors return to mark such a special show. The atmosphere of relief at the world returning to normal could not be ignored, and fortified the importance of events such as UK Dairy Expo to the industry, not only for business, but also the mental health and well-being of those working in the industry.
This is highlighted by the ongoing support from a line-up of incredible sponsors. This year mainline sponsors included: Carrs Billington, Cattle Information Service, Farmers Guardian, HSBC and Holstein UK.
"I'd like to take this opportunity to thank each and every one of our sponsors for their generous support, without which the event would not be what it is today," adds Glyn. "I think it's safe to say we marked this milestone, tenth anniversary show, with style and have really raised the profile of Borderway UK Dairy Expo on an international scale."
2022 Breed Champions:
Champion Of Champions
Champion - Riverdane Miss Awesome Strawberry Red – Consigned By Riverdane Holsteins (R & W)
Reserve - Riverdane Doorman Elke – Consigned By Riverdane Holsteins (Hol)
Genus Supreme Heifer Champion
Champion - Absolute Doorman Shes A Belter – Consigned By Absolute Genetics
Reserve - Treasure Andreas Fernleaf – Consigned By Summer Sizzlers
Ayrshire
Champion - Swaites Buttercup 40 – Consigned By John Adamson & Son
Reserve - Swaites Bracken 19 – Consigned By John Adamson & Son
British Friesian
Champion - Oakalby Brandy Britto 57 Consigned By Es Burroughs & Son
Reserve - Irthingelt Balmoral Spirit 4 – Consigned By Thomas Moscrop
Brown Swiss
Champion – Kedar Shut Up And Dance With Me – Consigned by T Lochhead & Sons
Reserve - Holdontoyourhats Jeez Louise – Consigned by Harriet Hassall
Dairy Shorthorn
Champion - Mossrigg Barrington Iris 8 – Consigned By JM & J Fisher & Daughters
Reserve – Churchroyd Golden Drop 41 – Consigned By IRG Collins & Partners
Holstein
Champion – Riverdane Doorman Elke – Consigned By Riverdane Holsteins
Reserve – Davlea Sidekick Wattle – Consigned By I M Davies
Jersey
Champion - Honeygirls Welsh Lily Consigned By Honeygirls Jerseys, West Yorkshire
Reserve - Skiddaw Megapower Bluebell – Consigned By Ja & Y Raven
R & W
Champion - Riverdane Miss Awesome Strawberry Red – Consigned By Riverdane Holsteins
Reserve - Drointon Arvis Promis Red – Consigned By A & D Mackellar
Posted: Tuesday 15 Mar 2022
Back To Event News