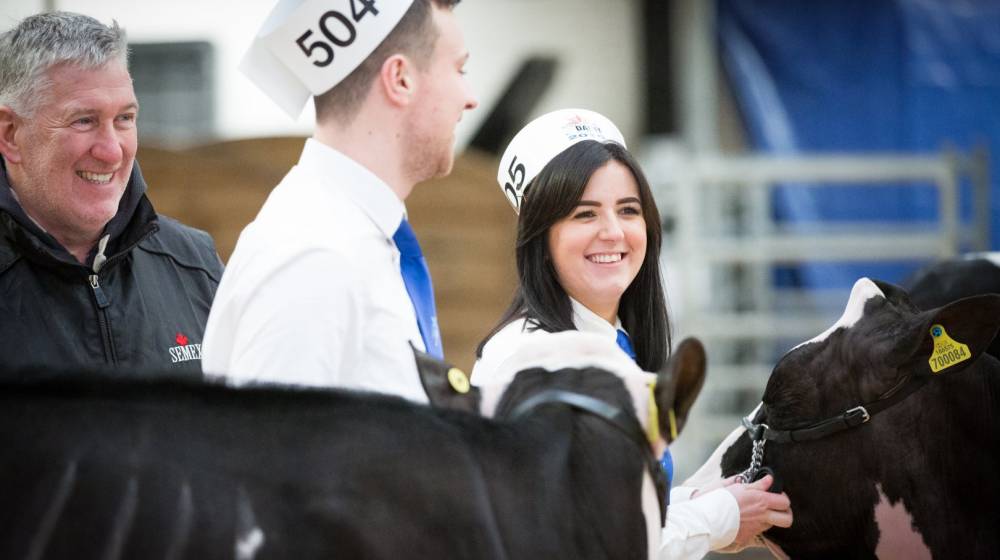 Tasha Kirby Absolute Genetics
Tasha has taken part in UK Dairy Expo each year since 2012.  She recently qualified as a veterinarian and is one of the UK's Holstein ambassadors  
26-year-old Tasha Kirby graduated from Liverpool University in 2020 as a Vet. She has worked at Ribble Vets in Preston for 18 months as a full-time farm vet, working with mainly cattle and some sheep. Her passion is dairy herd health and fertility which is where she would like to focus her career long-term. Her background in showing and has helped her progress quite quickly into the veterinary world and has given her some good connections.
She has a lifetimes experience in the dairy industry and has been involved in the family farm near Kirkham, Lancashire, since she could walk. Growing up, she spent a lot of time feeding calves and running calves round on halters, and as she grew up began milking alongside her uncle and grandfather. The farm ceased milk production 20 years ago and, as Tasha wasn't hugely involved in the running of the main farm, her father, Graham, gifted her two show calves which was the beginning of Absolute Genetics. Things spiralled from there as Tasha and her father spurred each other on, fuelled by a passion for showing. Tasha has 18 years showing experience and it is what inspired her veterinary career.
The Absolute Genetics herd is made up of 50 mainly Holsteins, with the odd Jersey which Tasha describes as her "side-line". They do not operate a conventional dairy system as they do not produce milk for suppliers. Their business is modelled around cattle genetics, pedigree and genomics. They carry out a lot of embryo transfer with most of their calves the result of ET from Canadian and North American genetics. They focus on selling embryos and young stock. They have 10-15 cows that they embryo flush each month to either sell or implant in other cow at home.
In a bid to steer Tasha's interest away from horses, Graham purchased two Jersey embryos. Tasha describes Absolute Genetics as "a hobby out of control" and her active role in breeding and showing calves has been very successful. She is also very keen on the showmanship side, as well as calves.
Tasha believes that showing is the best way to market their cattle, and in turn lead to sales. She has exhibited at Borderway UK Dairy Expo since it began in 2012 and sees it as one of the best marketing opportunities for the herd. She has successfully sold calves and embryos each year following the show.
She has enjoyed plenty success in the showring with numerous Holstein class winners, as well as Jersey section wins too. For Tasha, UK Dairy Expo acts as a shop window for showcasing their herd to the wider industry. She describes the event as "a vital part of the dairy industry, not only to help market genetics and cattle, but to give people access to the latest technology and machinery that they wouldn't have otherwise known about or thought to use."
Tasha also believes that the dairy industry is only going to progress by getting people together, talking to each other and sharing knowledge and ideas. There is something for everyone; farmers, vets, nutritionists etc. Aside from this, it is an excellent social event and important to people's mental health, especially after the last couple of years. Sarah said: "It's a good excuse for people who get minimal time off to have a day away from the farm whilst still doing something useful, which we know farmers like!"
Posted: Monday 28 Feb 2022
Back To Event News