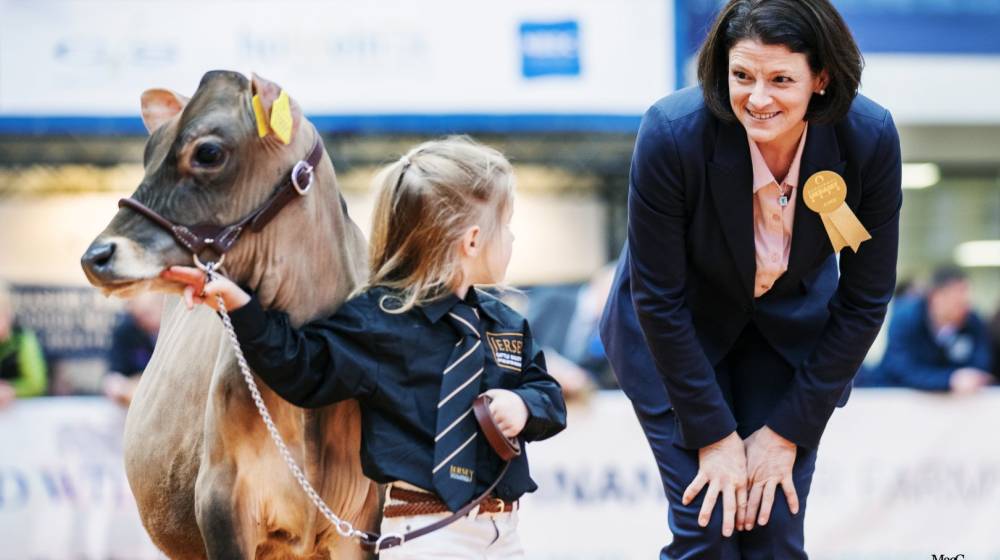 Entries Open for 2023 Borderway UK Dairy Expo
Harrison & Hetherington are welcoming livestock entries for 2023 Borderway UK Dairy Expo along with applications from businesses to take part in the trade exhibition a key part of the event.
Harrison & Hetherington today announce that cattle entries for its highly acclaimed dairy event, Borderway UK Dairy Expo , are now open. With an international line-up of renowned judges to cast their eyes over each and every animal, it is expected that in the region of 500 head of dairy cattle will be put forward. Now into its second decade, this important industry event and Spring Showcase attracts a live audience of around 7,000, with people also tuning in from across the globe to the livestreaming service which was launched last year.
Attracting some of the top genetics in the world , the show classes of dairy cattle and young stock are held across seven breed sections - Holstein, Ayrshire, Jersey, Dairy Shorthorn, Red and White, British Friesian and Brown Swiss.  Chose for their   experience and skill, this year's judges are traveling from North America and from across the UK.  Nathan Thomas from North Lewisburgh, Ohio, will judging the Holstein classes, and his wife Jennifer Thomas, will judge the Red & White, Jersey, and Ayrshire classes. Duncan Hunter, from Hertfordshire, will judge the National British Friesian Show and Dairy Shorthorn classes; and Tom Lomas from Derbyshire, will judge the International Showmanship Show.
Application forms for the 2023 Dairy Expo which is taking place on Friday 10th and Saturday 11th March are available on the event's dedicated website – www.borderwaydairyexpo.uk 
Commenting, Glyn Lucas, Senior Pedigree Dairy Auctioneer at Harrison & Hetherington, said:
"Borderway UK Dairy Expo has become one of the UK's most important and spectacular annual shows of dairy cattle, with entries from some of the most noted breeders in the country. This is a hugely competitive event, and we have the most eminent line up of judges who bring with them a wealth of knowledge and experience.
"As part of this event we also bring together businesses who service the dairy industry giving them the opportunity to showcase the latest industry developments - whether that be machinery, genetics, equipment – to those keeping the cogs moving on farm. Understandably, everyone here at Harrison & Hetherington is looking forward to another tremendous event which we organise specifically for this important farming sector, the dairy industry.
Each year Borderway UK Dairy Expo welcomes a plethora of trade exhibitors to utilise the networking opportunity and explore the latest industry trends, research and developments, and technology and trade applications are now also open for this exhibition. At a time where farmers are having to be more innovative than ever in a rapidly changing industry, this is the perfect platform to demonstrate products and services which could help farmers improve efficiency and future proof their businesses.
The closing date for trade applications and cattle entries for Borderway UK Dairy Expo is Friday 10th February. Further details and application forms can be found at www.borderwayukdairyexpo.uk . For gift ring applications contact Carolyn Charlton at [email protected] .
Posted: Monday 09 Jan 2023
Back To Event News